Što je to CVV/CVC i gdje se nalazi?
CVV/CVC kôd (Card Verification Value/Code) nalazi se na poleđini vaše platne kartice desno na bijeloj potpisnoj traci i uvijek su to 3 zadnje brojke u slučaju VISA i MasterCard.
Unesite CVV/CVC sa poleđine vaše platne kartice i nastavite s plaćanjem.​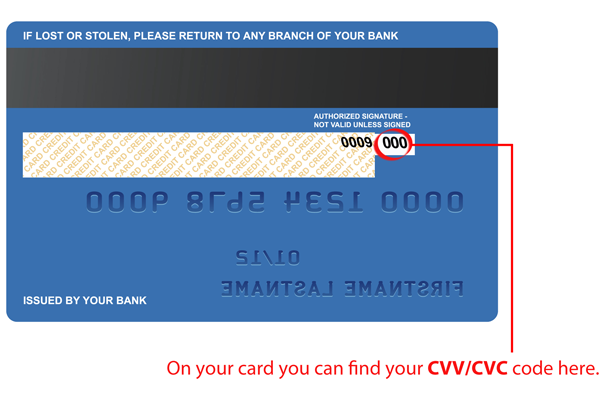 VISA koristi oznaku CVV ili CVV2, MasterCard koristi oznaku CVC ili CVC2.
Sigurnost
U današnje vrijeme može biti lako dobiti podatke o tuđoj platnoj kartici, primjerice u prodavaonici nas sigurnosne video kamere vide skoro tijekom svakog plaćanja. I zbog toga se kôd za verifikaciju CVV/CVC nalazi na poleđini platne kartice te tako osigurava osnovnu sigurnosnu mjeru. CVV/CVC kôd je stoga potreban kod svih internetskih plaćanja, kada platna kartica nije fizički dostupna te gdje nije moguće zahtijevati osobni PIN platne kartice.