Co to jest CVV/CVC i gdzie się znajduje?
Kod CVV/CVC (Card Verification Value/Code) znajduje się na odwrocie karty kredytowej po prawej stronie w białym pasku podpisu i są to zawsze ostatnie 3 cyfry dla kart VISA i MasterCard.
Wpisz kod CVV/CVC z tyłu karty płatniczej i kontynuuj płatność.​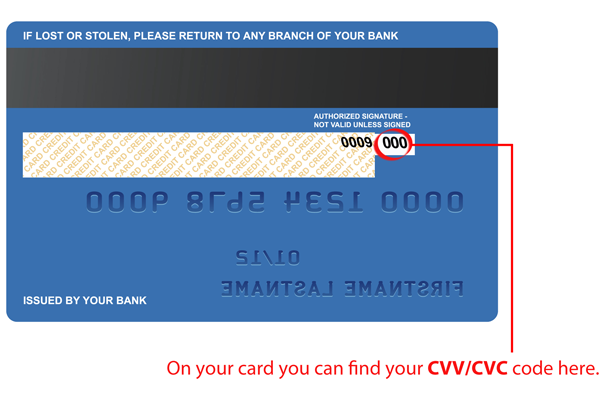 VISA stosuje oznaczenie CVV albo CVV2, Mastercard stosuje oznaczenie CVC albo CVC2.
Bezpieczeństwo
W dzisiejszych czasach łatwo można przejąć dane z obcej karty płatniczej, np. w sklepie, w którym kamery rejestrują nas prawie w trakcie każdej płatności. Z tego powodu kod weryfikacyjny CVV/CVC znajduje się z tyłu karty i zapewnia w ten sposób podstawowy poziom zabezpieczenia. Dlatego też kod CVV/CVC jest wymagany w przypadku wszystkich płatności internetowych, przy których karta płatnicza nie jest fizycznie obecna, a osobisty numer PIN karty płatniczej nie może być wymagany.