Guide to Activate PayPal in a GoPay Merchant Account
Activating PayPal - the usual process
To activate PayPal go through the following steps:
Activating PayPal in a GoPay Merchant Account
Setting up / Logging in to a PayPal Account
Granting a third party permission to access a PayPal Account
Activating other currencies
Our tip:
If you can't see the payment method in your GoPay Merchant Account, or the method isn't active, contact our customer support podpora@gopay.cz - and ask for activating PayPal in the merchant account.
Activating PayPal in a GoPay Merchant Account
Log into your GoPay Merchant Account and click "Settings -> PayPal Account".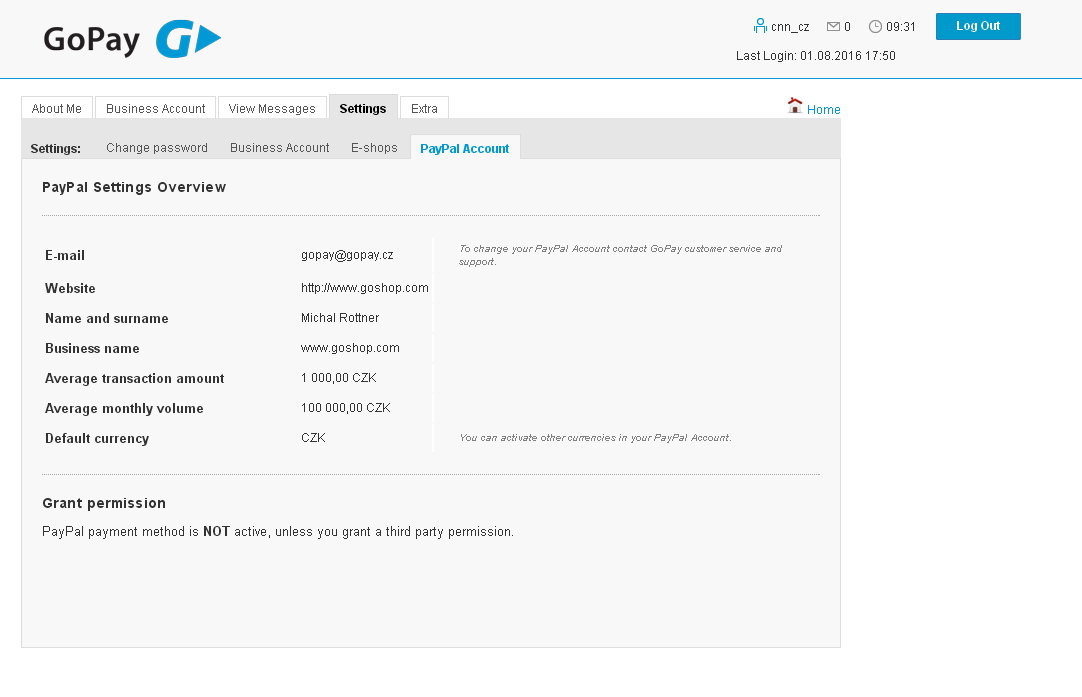 To activate a PayPal payment method it is necessary to get your PayPal Account connected.
If you already use a PayPal Account, please choose the e-mail and account you want to use for your payments. Your marketplace and payments will be associated with that e-mail and account.
2a. Setting Up Your PayPal Account
If you haven't created a PayPal Account yet, choose an e-mail address to create a new PayPal account. Complete the form, adducing the approximate monthly volume of payments and an average transaction amount that buyers produce at your marketplace. Click "Continue". Now you are redirected to the PayPal front page. You'll need to fulfill the necessary steps.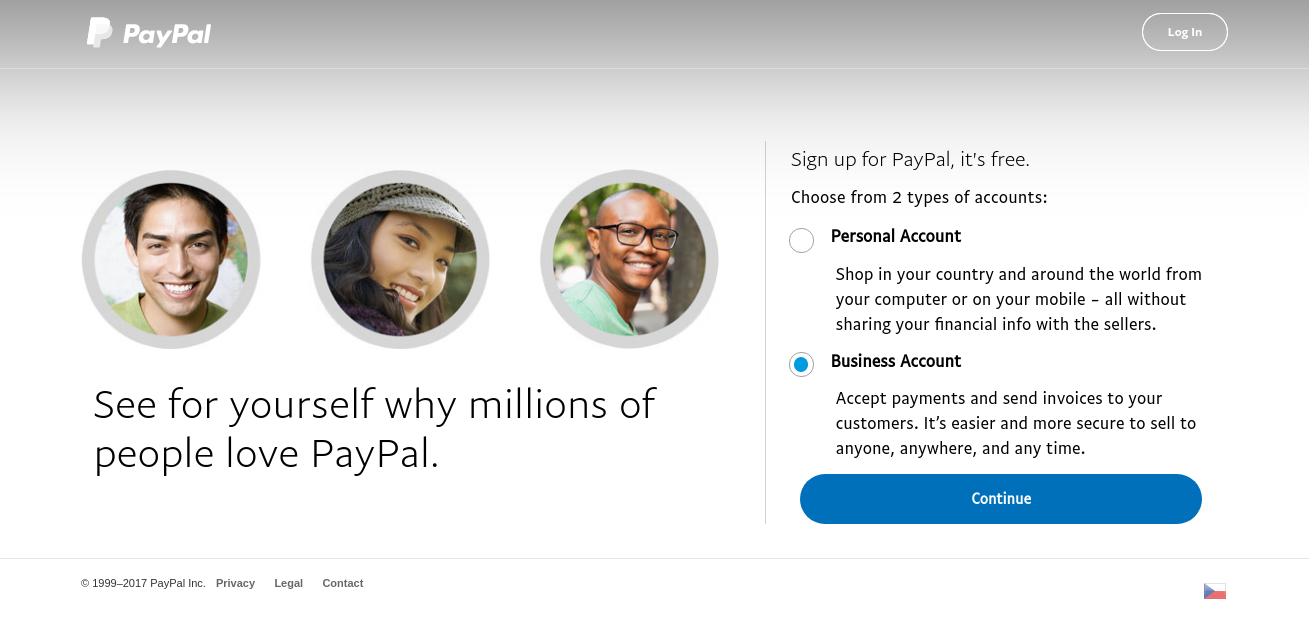 Now you can see the next page "PayPal - CreateMy Account". You'll need to select two security questions to help recover the access if you forget your password, and then it's necessary for you to agree to the PayPal's Terms and Conditions.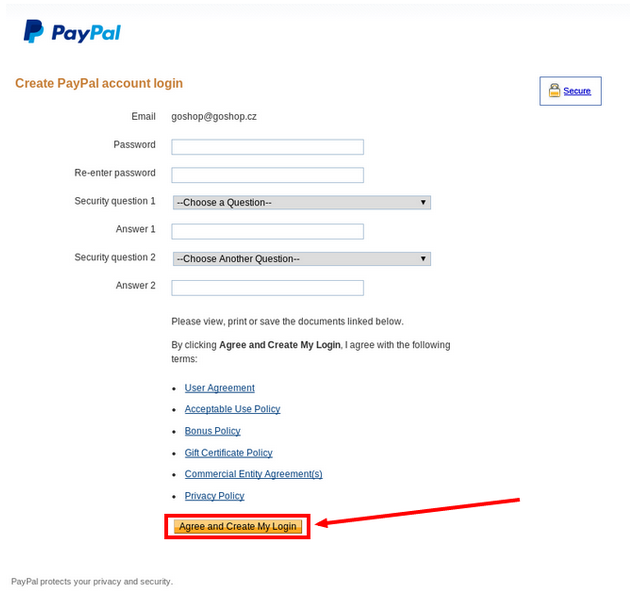 Our tip:
If you already have a PayPal account, just simply log in to your account.
2b. Logging in to your PayPal Account
Log in to your PayPal Account, enter your e-mail address and password.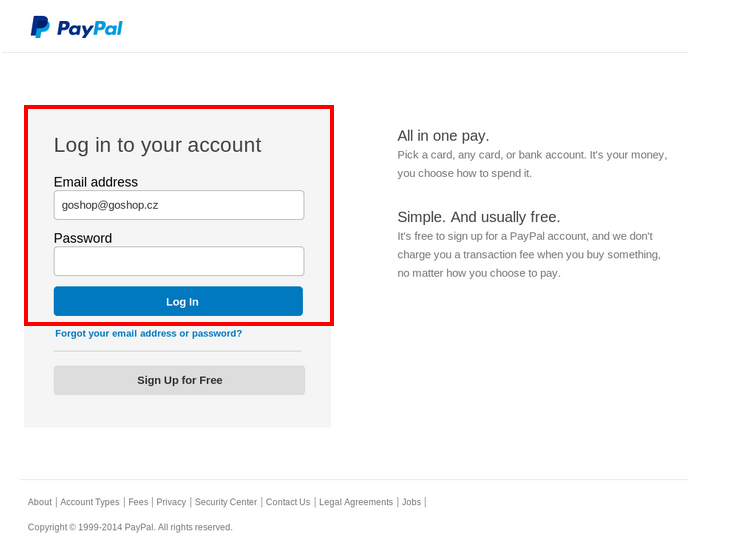 Once you've logged into the PayPal Account you need to redirect to the return URL. This step will link up your GoPay Account with the PayPal Account.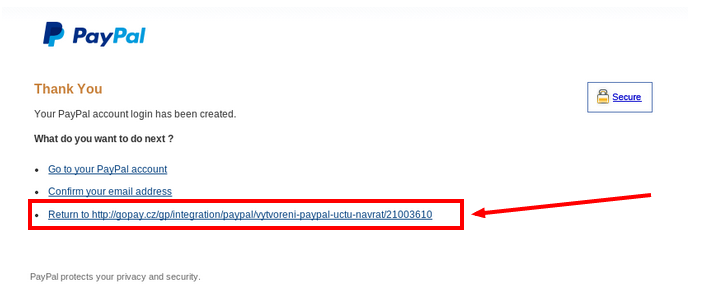 3. Granting GoPay a permission to access a PayPal Account
After you return to GoPay you are automatically redirected to www.paypal.cz. Log in to your PayPal Account and enter your password. This account will be given a permission to access the activation. By giving the permission your GoPay Account will download all the information about your payments. You can also manage your payments there.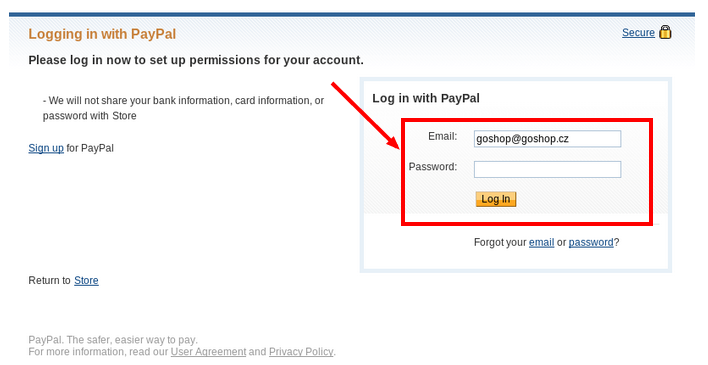 By clicking the "Grant Permission" button you allow the third party (GoPay) to perform specific technical operations.
Our tip:
In no way can GoPay manage or use your funds, since you don't grant GoPay a proper access. GoPay is only authorized to access your account for technical purposes, so you can view PayPal movements in your merchant account.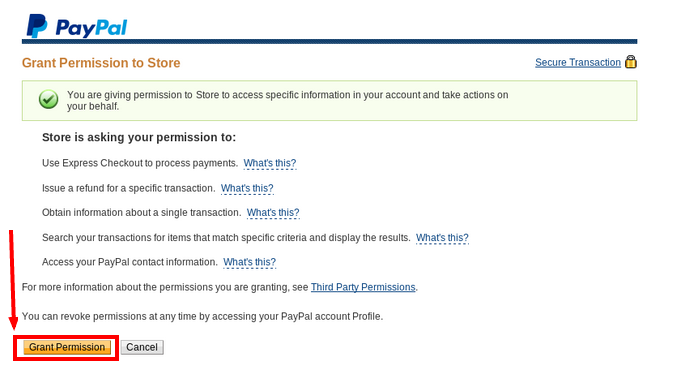 If granting GoPay a permission to technically provide PayPal payments is successful, you are redirected back to the GoPay Merchant Account and we'll inform you that PayPal payments have been correctly activated.
Note: Should you not grant a third party permission, you won't be able to settle a PayPal payment with GoPay.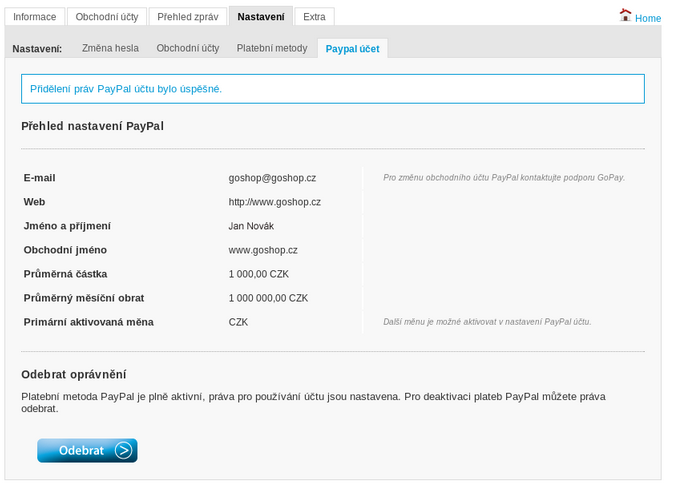 Now it's necessary to activate PayPal payments in your Merchant Account. Go to "Settings -> Payment Methods -> Payment Methods Settings". If you don't see the option "PayPal", please contact our customer support podpora@gopay.cz.

Check and adjust your PayPal payments to receive other currencies.
4. Activating other currencies
When the PayPal payment method is activated, your default currency for receiving and sending payments is CZK (Czech Koruna). To hold other currencies (EUR) you need to add them to your PayPal Account.
Log into your PayPal Account and select "My account -> Overview -> Currency Converter".
Click "Select new currency".
Click "Add Currency" and choose the currency you want to add.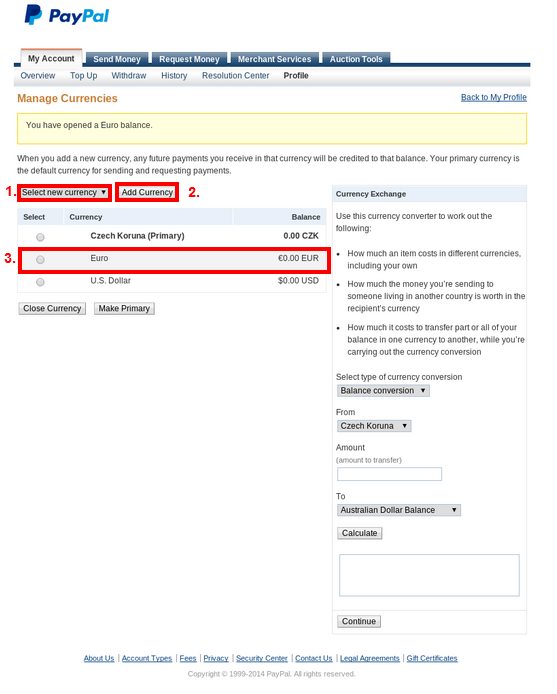 What if I can't connect PayPal to GoPay?
In case the process of connecting PayPal to GoPay isn't successful (see below), you need to go through all the steps again. Should such an action not be helpful, please contact our customer support podpora@gopay.cz.